I just added a new deck to my Anki Decks page: Linchpin.
This is a deck based on Seth Godin's 2010 book Linchpin.
How to Use It
Grab it here: Linchpin. (You'll need Anki. If you're new to Anki you might find my Anki Essentials guide useful.)
There are 123 cards based on the key ideas in the book. Some examples (bold texts are cloze deletions):
real artists ship
three words that kill organizations: "not my job"
leading is a skill, not a gift
the linchpin is indispensable
what linchpins do with fear: feel it, acknowledge it, proceed
I don't need more genius, I need less resistance
never wait for someone else to tell me what to do
I have a limited number of brain cycles to spend each day
art is the act of navigating without a map
I will fail, and often
trying and failing is better than merely failing
you can't fit in and stand out
Sample Card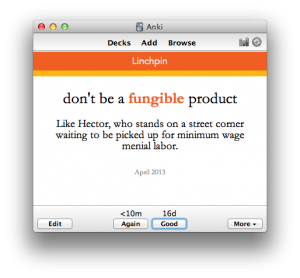 See also my Linchpin book notes and book summary.
///