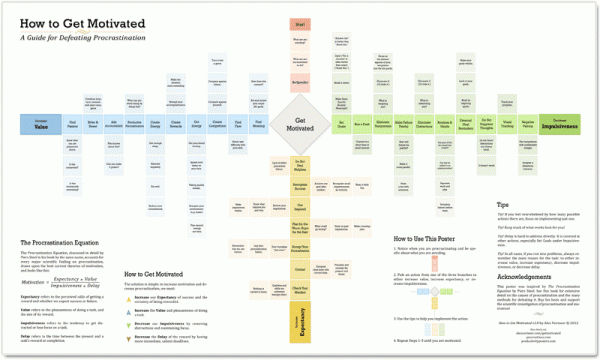 Followup to: How to Generally Reduce Procrastination and How to Stop Procrastinating Right Now
Jump down to the end if you want the download links. 
Two of my recent posts were meant to highlight clear, actionable things we can do to defeat procrastination – whether it's general life and environment changes or things that can be done immediately – based on The Procrastination Equation by Piers Steel.
They're a bit long, and despite my best intentions to use as many of the methods from the book as possible, when I'm in the middle of procrastinating I don't tend to go out of my way to look up a post, find a method, and implement it.
It needs to be easier; it needs to be as easy as possible!
So, I created a flowchart, to be printed in colour and posted somewhere visible, to help me actually use the anti-procrastination advice I so desperately need!
To use it: when you notice you are procrastinating, pick one of the items from the green, yellow, or blue branches and implement it, using the tips to help you out. Here are the instructions taken from the poster: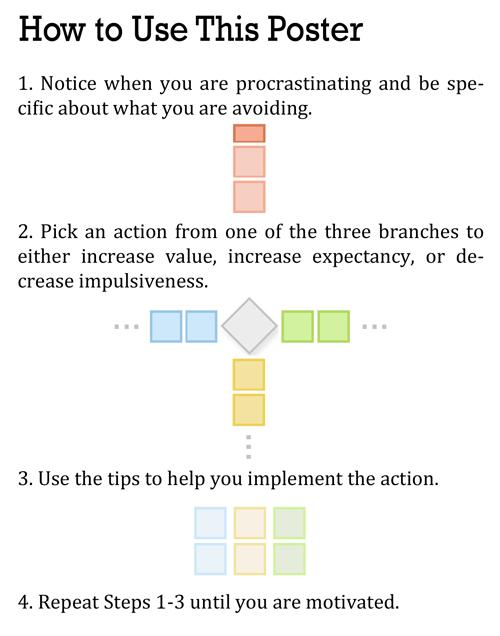 Download It Here!

How to Get Motivated: A Guide for Defeating Procrastination v2

Note that all images are .png format.
Before Using It…
If you haven't yet, read my two lead-up posts: How to Generally Reduce Procrastination and especially How to Stop Procrastinating Right Now, which this flowchart is primarily based on.
Without reading them, the poster may be hard to decipher and utilize.
This poster now falls under the Creative Commons Attribution-NonCommercial-ShareAlike 2.5 for Canada.
Here's to kicking procrastination's ass.
///