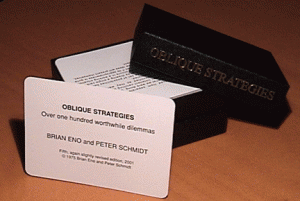 I've added an experimental deck to my Anki Decks page called Oblique Strategies.
This deck is based on the Oblique Strategies decks of physical cards first created by Brian Eno and Peter Schmidt in 1975.
The cards contain aphorisms to help with breaking creative blocks and encourage thinking differently, such as "ask your body," "retrace your steps," and "turn it upside down."
I first heard of them in Dan Pink's book Drive where he recommends using the Oblique Strategies cards as one of his "nine strategies for awakening motivation in individuals." 
How to Use It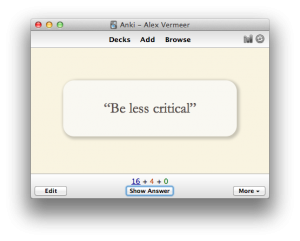 Grab it here: Oblique-Strategies.apkg. (You'll need Anki. If you're new to Anki you might find my Anki Essentials guide useful.)
This deck contains 100 cards based on the fourth version of the oblique strategies deck with phrases like:
Remove a restriction
Repetition is a form of change
Retrace your steps 
Reverse
Simple Subtraction
Slow preparation, fast execution
State the problem as clearly as possible
Take a break
Take away the important parts
I have this deck in an "experimental" sub-folder and only "study" if when I'm feeling stuck. Still unsure whether this is particularly useful or not—I tend to find the cards merely confusing. I'm curious to hear if anyone else has some success with these!
More Info
Head image from www.rtqe.net/ObliqueStrategies/.
///