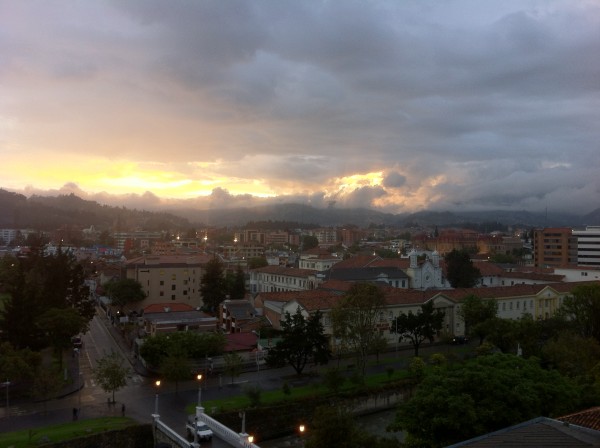 It's been two weeks since the last update, so this one may end up a little long. :)
Day 28-29 – Banos to Riobamba to Salinas
On our way to Salinas, a smaller town up in the mountains known for its artisans, we stopped for a night in Riobamba to break up the trip. There, to my pleasant surprise, our hostel had a 'built-in' bouldering wall. How could I resist?!
Day 29-32 – Salinas
Once in Salinas we took the opportunity to get outside. In the evening of our first day there we went on a hike up to the top of some nearby hills and watched as the night and the clouds rolled in, until we were in a blinding fog.
On our second day we went on an awesome four hour hike through a long cliff-walled valley spotted with caves and over some minor mountains. We explored off the beaten trail around some very cool rock formations (unfortunately no pictures) and climbed up them for some pretty amazing views.
The next day we attempted another long hike but got rained out by an intimidating thunder storm.
Salinas also provided the best cheese and chocolate we've had in Ecuador yet!
Day 32-34 – Guaranda
After Salinas we continued south down through the Ecuadorean highlands, but first had to jog to the East to Guaranda to bring us back to the main trail.
Guaranda had one of the best cafés I've ever seen, called 7 Santos (7 Saints). It had an excellent menu, many green plants, an 'indoor'-outdoor patio, and an indoor area complete with a live-music stage. An elderly woman who owned the café served us fantastic coffee and showed us the (amazing) artwork her and her mother made, including all of the graphics on the menu.
Day 34-36 – Alausi
The next stop on our way south was Alausi, about half-way between Guaranda and Cuenca. While trying to find a bus in Guaranda that would take us to Riobamba (from which we could catch a bus for Alausi) an old, beaten-up car  pulled over in front of us and offered us a ride!
Through very broken Spanish on our part and English on their part—the phrasebook was much used by all—we talked about school, work, and life while driving through a nearly blinding fog.
Once in Alausi we found a good hostel with a small discount, after wheeling and dealing with the owner, who spoke only rapid Spanish, and his daughter.
On the second day we wandered all around the town, at one point finding the local soccer field with what looked like a high-school team preparing for a practice. We approached the coach, who was very friendly, to try ask if we could kick around one the balls, but it turned out it was team tryouts, so we let them be.
Up on the north end was an old abandoned house with ample opportunities for urban bouldering and a nice sunset view of the town.
Day 36-37 – Cañar
The bus ride from Alausi to Cañar was intense. Our bus driver was insane, barreling up and down winding mountain roads, passing people around near-blind corners, and hitting at least 150km/h on the downhill portions.
Needless to say, we made it in one piece—and in good time.
Cañar is primarily a means to get to Incapirca, the primary Inca ruin in Ecuador, and so after spending the night we took a taxi to the ruins. They were very cool, but surprisingly small. The place also had the unfortunate feel of a 'tourist trap'.
After the tour we took a small side hike to see the 'Inca face' which is a rock formation that naturally (?) resembles—you guessed it—an Inca face! Along the way we were solicited by a sweet old lady who wanted us to buy some 'genuine' Inca stone carvings, but through an unknown source of strength we were able to resist.
Cañar also introduced us to the pleasure of Inca Cola. Who'd have known that the Inca's had developed a drink that tastes just like Jones Cream Soda?
Day 37-40 – Cuenca
From Incapirca we went directly to Cuenca, which is one of the largest cities in Ecuador. Cuenca is surrounded by mountains on all sides, which made for some nice views from our fourth-floor hostel room. (The header image for this post.)
In Cuenca, Jimmy was finally able to find a solid acoustic guitar (his drug) while I spend almost two whole days reading and writing in an awesome café (my drug). We went for a hike along a river that cuts through city, and found many opportunities for some urban bouldering (my other drug).
Day 40-41 – Quenca to Quito to Mindo
At this point we were getting pretty far south in Ecuador, but since I'm flying back home for Christmas, I need to be back in Quito soon. So, to avoid the many hours of bus rides and extra hostel nights that would be needed to make our way back to Quito, we dropped by the Cuenca airport where we bought a flight to Quito for only $60. It's the first time I've ever walked into an airport, bought a ticket, and been on a plane all within two hours!
Airports and airplanes are so much fun. The flight only lasted about 45 minutes, most of which was in ascent and then descent. The clouds were fantastic, and because it was such a short flight we spent little time incredibly high and a lot of time flying right above and around the clouds. As we approached Quito the clouds got really thick, so we didn't get a chance to see Cotopaxi or any of the other big Ecuadorean volcanoes.
Once in Quito we had a bit of an adventure finding a bus that would take us to Mindo. It turns our we missed the last direct bus for the day, so we had to take a north-bound bus and get off at the road that leads to Mindo. Unfortunately, this bus would get there at 7pm, in the dark, in the middle of nowhere, so we had no idea how we would manage the last stretch.
But, as luck would have it, when the bus dropped us off we found ourselves with an Ecuadorian girl heading for Mindo whose boyfriend was there with a truck. They offered us a ride for a buck each!
And now we are finally in Mindo, one of the places we've been looking forward to the whole trip!
Mindo is a small town to the north-west of Quito nestled in the mountains and covered in cloud forests. When I first heard that word I thought of trees growing on clouds, or a whole city suspended amount crazy-tall trees up in the clouds. Alas, it isn't quite that dramatic, but Mindo is still very beautiful, and entirely surrounded by thick, lush forests.
Zip-lining, hiking, and other adventures are planned.
///