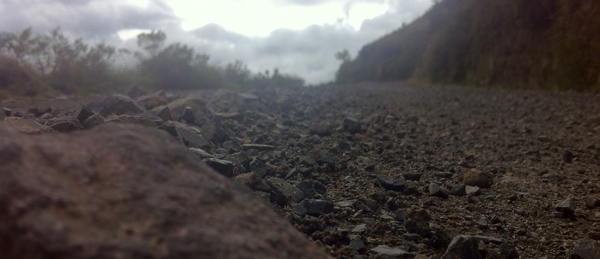 The next portion of our trip took us through the Quilotoa Loop, an assortment of small town surrounded by mountains and away from busy roads and cities.
Day 9-12 – Isinlivi
It was time for us to get out of the city and into nature to really see the mountains. Isinlivi certainly delivered.
The bus from Latacunga to Isinlivi was relatively short. For the last leg of the trip we had the bus driver drop us off at the top of the mountain pass and we walked the remaining few hours down to the town.
It being out first real foray into hiking up in the mountains, we were blown away (figuratively).
Llullu Llama, our hostel, was fantastic: mounds of vegetarian food for breakfast and dinner, lots of places to hang out and relax, and the greatest view from a bathroom I've ever seen!
From here we did several hikes, including a 5 hour trek to a small nearby town from which we could see mountains in an amazing 360 panorama. Awesome.
Day 13 – Chugchilan
Despite the awesomeness of Isinlivi, we did have to eventually move on. On the 13th day we hiked from Isinlivi to Chugchilan, the next bigger town on the Quilotoa Loop. We only stayed on night before moving on.
Day 14-16 – Quilotoa Crater
And finally, the place that gives the Loop its name, we made it to the Quilotoa Crater.
We got there by truck from Chugchillan, which was an adrenaline-filled ride standing up in the back as we careened along the narrow mountain roads. Apparently a light *meep meep* is sufficient warning for oncoming traffic when zooming around blind corners along the edge of a cliff. :P
The first day there we merely settled in and explored the tiny town after find a place to stay and eating some food.
The second day there we hiked down to the crater lake and kayaked around. Anyone else concerned about the bubbling water?
The third day there we hiked along a portion of the rim of the crater. where we hung out, played cards, looked down over a cloud range near the coast, and watched some storms roll in.
Highlight: watching a clear starry sky while sitting on the very edge of the crater, with two separate thunder storms flashing in the distance, and watching the moon rise from behind the thunderstorm into the sky. Epic.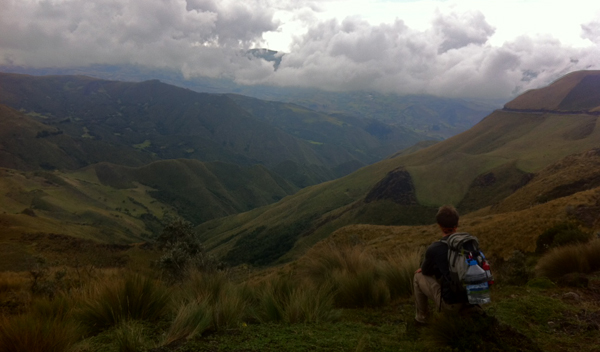 ///